KRASNOYARSK REGIONAL PHILHARMONIC
Krasnoyarsk regional philharmonic is one of the largest concert organizations in siberia and in the far east of russia.
Located on the picturesque banks of the yenisei river in the centerof krasnoyarsk.

The krasnoyarsk regional philharmonic is a center for musical life of the region.
This cultural cluster includes 4 modern concert halls and 14 multi-genre professional collectives.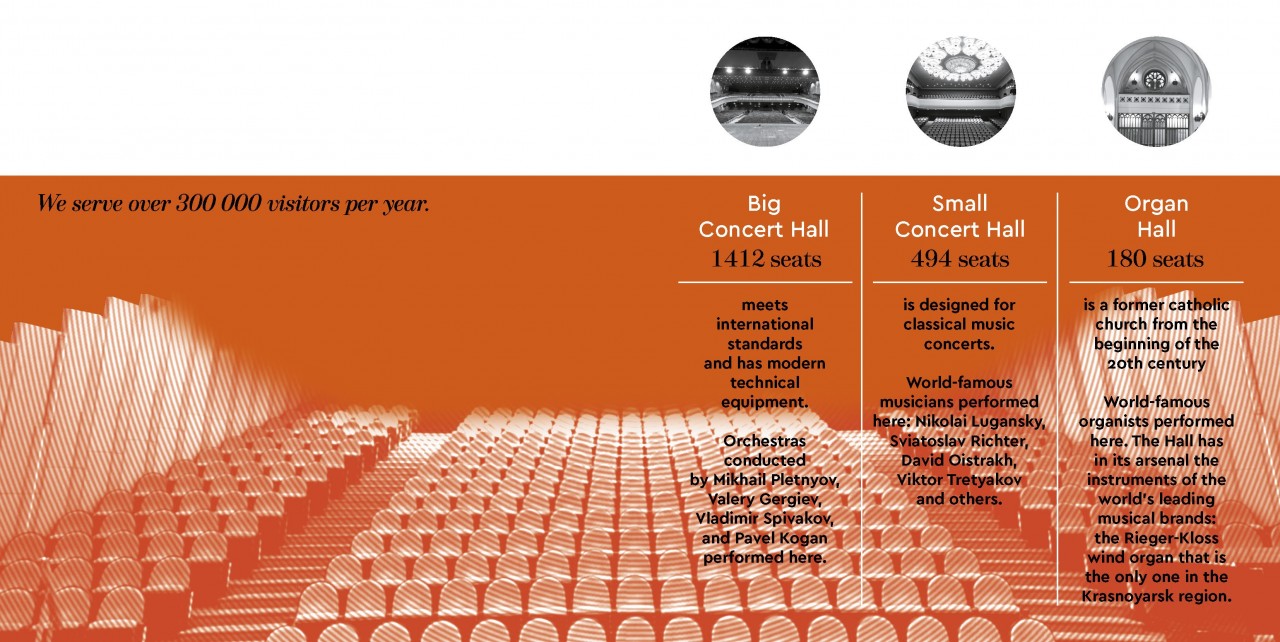 SIBERIAN STATE SYMPHONY ORCHESTRA
Today the orchestra is led by Artistic Director and Principal Conductor Vladimir Lande.
The orchestra regularly performs at prestigious concert halls in Moscow (Tchaikovsky Concert Hall), St. Petersburg (Grand Hall of the St. Petersburg Philharmonic), etc., and abroad: in the Netherlands, Latin America, Europe and Asia, etc.
Season 2019/2020 planned tours in China and USA.

KRASNOYARSK STATE ACADEMIC DANCE COMPANY OF SIBERIA
The outstanding Russian choreographer Mikhail Godenko brought world fame to the dance company. He created a unique new style of dance, which became the hallmark of the dance company: more than 150 choreographic productions became recognizable in the world.
The dance company has been actively touring around the world: Australia, Belgium, Bulgaria, Germany, Greece, Guatemala, Denmark, India, China, Norway, Poland, the USA, Switzerland, Sweden, France, Japan…
KRASNOYARSK PHILHARMONIC RUSSIAN ORCHESTRA
It is the largest folk orchestra in Russia.
For the quarter-century, the musicians played more than 1000 concerts in Krasnoyarsk, Moscow, St. Petersburg and other of Russia's cities.
The orchestra collaborates with other orchestras and soloists from Russia and all over the world.
The orchestra is open to international tour offers.
Krasnoyarsk Regional Philharmonic
CEO
Evgeny Stodushny
Mira Prospekt, 2 "B", 660049
Krasnoyarsk, RUSSIA
+7 (391) 227-52-58
info@krasfil.ru